What Makes Missouri Gravel Bed Trees Better?
Having been in the design/build aspect of the landscape industry for the past 40 years, we got fed up with how labor intensive it is to plant trees.
The Problem With Ball and Burlap Trees
Ball and burlap trees are really big and bulky. They're heavy to ship and require large equipment to transport and significant manpower to unload and plant.
They require you to dig very large planting holes, leaving pounds of excess soil to haul away later. Sometimes it costs as much to repair the damage caused by the equipment damage as goes into the actual planting.
Unfortunately, despite best efforts, it's difficult to preserve the integrity of the root system during the ball and burlap harvesting process, making it common for new transplants to suffer from shock and stunted growth.
The Problem With Container Grown Trees
Container grown trees can maintain a larger percentage of the original roots as compared to ball and burlap trees, but they're often pot bound with a mass of encircling roots.
Differences between the container soil and the on-site soil also make it difficult for the roots to get established in the new surrounding soil.
The Problem With Bare Root Trees
Bare root trees are trees that after harvesting have been mechanically shaken to remove the excess soil from their roots. The problem is that if soil conditions are not absolutely perfect, the small fibrous roots are usually ripped away from the main root system in the process of shaking the trees.
Subsequently, bare root trees must be harvested and planted before they leaf out, otherwise water will transpire through the leaves faster than the trees can replace it. This results in wilted leaves.
This severely limits the effective planting window for bare root trees– limiting planting to early spring or late fall in our area.
Rare Earth Nursery Got Serious and Found a Better Way
When we discovered the Missouri Gravel Bed System we knew right away that we'd landed on the perfect solution.
Developed over 30 years ago at the University of Missouri by Professor Chris Starbuck, this unique system replenishes the fibrous roots in bare root trees.
The result is nursery stock that can be harvested in full leaf, throughout the growing season– without moving large volumes of soil in the process!
Here's How The Missouri Gravel Bed System Works. . .
Bare root plants are held in a mix of small round gravel and sand, then drip irrigated and fed with a complete fertilizer until the tree has established an incredible, fibrous root system.
This process to replenish the root system requires only 10-12 weeks, after which our trees can be harvested– in full leaf– throughout the remainder growing season. 
Harvesting can commence anytime after August 1st. The nature of the Missouri Gravel Bed growing medium allows the trees to be harvested with minimal damage to the roots, so there's no wilting.
With success rates of 90% or greater– it's fair to say that our trees don't just survive, they thrive!
The Bottom Line: You get all the advantages of bare root plantings without the very small planting window.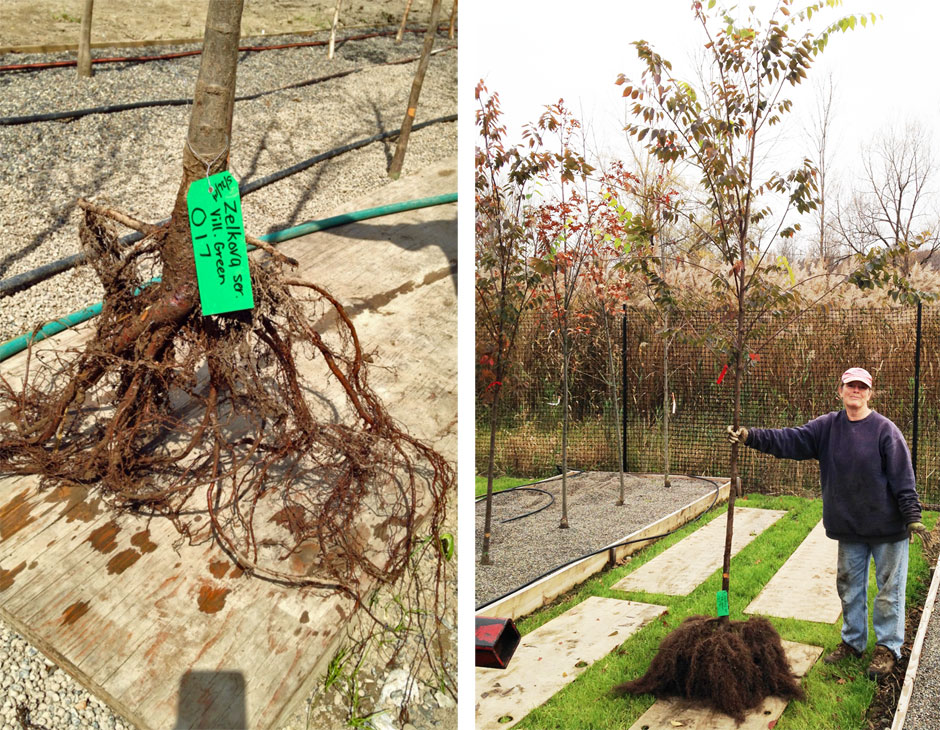 Got an access problem on your landscaping site?
No problem! Our 1.5"+ caliper trees weigh 30 to 40 lbs., compared to a comparable ball and burlap tree which would weigh around 200-300 lbs. This means you won't need any expensive equipment to get them off the truck.
Simply carry the trees to the holes by hand or wheelbarrow. They are lighter to transport and you can carry more per load. Furthermore, a much shallower holes are needed than when you're planting ball and burlap trees.
With no soil on the roots...
There is no soil incompatibility with your new plants– they just take off growing.

Unlike ball and burlap trees, there's never a question of proper planting depth. You can see the root-flare everytime.

You're much less likely to introduce weeds to your customer's planting beds.
"In general, you can expect to spend less time on care and maintenance, reduce your overall labor costs and enjoy a higher survival rate in your transplants."
David Ryan, owner of Rare Earth Nursery, has been in the landscape and nursery business for over 45 years. He is a Lifetime Certified Nursery and Landscape Professional (CNLP) and is also an International Society of Arboriculture (ISA) Certified Arborist. Contact David Ryan
Click Here to read an article about David Ryan and Rare Earth Nursery in the Syracuse Post-Standard's Central NY Living section.
We Take Sustainabile Business Practices Seriously